Welcome to Thyrocare
Thyrocare Technologies Limited is India's first and most advanced Totally Automated Laboratory having its strong presence in more than 2000 cities / towns in India and internationally.
Thyrocare is India's first fully automated diagnostic laboratory with a focus on providing quality at affordable costs to laboratories and hospitals in India and other countries.
Thyrocare operates with a Centralized Processing Laboratory (CPL) in Mumbai - India for esoteric tests; and Regional Processing Laboratory in major metro cities of India and other parts of Asia. We have focus on strong technologies, strong brands and strong systems that enable all laboratories to give their clients the best of science and technology at an affordable cost.
With a belief that 'Quality' is the heart of any intelligent management, Thyrocare became one of the first Indian diagnostic laboratories to obtain internationally renowned quality accreditations like ISO 9001-2000 rating as early as 2001, which is now escalated to ISO 9001:2008 and CAP (College of American Pathologists) certification in 2007.
Our Network
Networks of authorized, trained and equipped collection centers serve through a very strong IT and Logistics.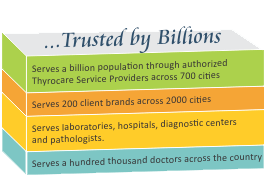 Our clear focus on speed and accuracy further made us the first Indian laboratory to also have an IT enabled, 24x7, fully automated diagnostic laboratory set up covering over 2,00,000 sq. ft. floor space that ensures error-free processing of over 60,000 specimens and over 3,00,000 Clinical Chemistry investigations per night. Our unmatched speed factor is achieved through a combination of air-cargo logistics and IT enabled, barcoded, bi-directional systems that ensures a turnaround time of 4 to 8 hours for processing of samples that arrive at any time of the day or night.
Meticulously created and monitored systems, well-chosen and trained manpower, wise selection of the best global technologies for specialized testing and an uncompromised approach to instrumentation has ensured that Thyrocare is looked upon as a yardstick for quality by stakeholders in the diagnostic industry. The uniqueness of Thyrocare is its effort to innovate and remain at par of the global standards for best of quality service delivery, at the most cost-effective prices.
Many laboratories and hospital brands in India, Middle East and South East Asian countries, use Thyrocare to complete their menu and deliver quality at an affordable cost.
Our Differentiators
Unique concept - Thyrocare operates with a Centralized Processing Laboratory (CPL) in Mumbai - India for esoteric tests; and Regional Processing Laboratory in major metro cities of India and other parts of Asia.
Unique focus - We focus on clinical chemistry and preventive care diagnosis.
Unique air-cargo logistics - which ensure the samples reach our laboratory every night, same night, before midnight.
Unique operations - Our laboratory works 24 x 7 to cater to the needs of our customers.
Aptio (Siemens)- World's largest and longest laboratory track automation- 1st Time in India
India's First preanalytical barcoded vial sorter (MUT) and Sample Sorter (Roche).
Our Strengths
Best of the Global brands, Best of their instruments, Best of the technologies, Best of the reagents, Best of the procedures, Best of systems, Best of IT when available to well - trained and highly focused Pathologists, Biochemists, Scientists and Technologists gives Best of the Quality. Continue Reading
IT when used ideally to integrate men, machines and methods, it delivers secured, assured, reliable and reproducible solutions even in Diagnostic industry. Analyzers, web-servers and barcodes when integrated, it gives a system that is empowered, controlled and monitored end to end.
With more and more brands using us as their cost-effective backend laboratory, Our presence grows in more and more cities, countries and continents. Thyrocare today boasts of processing 3 billion investigations in a year and having a capacity to process 10 billion in a year.
Working on Value makes a lot of sense when the operations are B2C. However when the focus is B2B, volume makes a great sense. Hence, Thyrocare has been working on cost of retail reagents for its services. A fully optimized, highly efficient, seamless automation has ensured men, material and machines delivering highest level of quality services at affordable (UNBELIEVABLE) costs.
Laboratory functions 24X7. Air-cargo functions 24 X 7 and 95% of the business is air-cargo driven. Barcoded, Bi-directionally interfaced and web server solutions enhance the speed and allow every laboratory in any continent to operate our machines as if they are present in their floor, generating results and reports within 5 hours of flight touching the runway.
Our clear focus is to facilitate and standardize quality and cost of laboratory services across the world. By helping laboratories to outsource numerical pathology tests (clinical chemistry), the quality of services are ensured by a username / password. Since the costs make economical sense for laboratories which lack volumes, this unique B2B focus helps the industry. Logically, we focus more on preventive care than sick care.